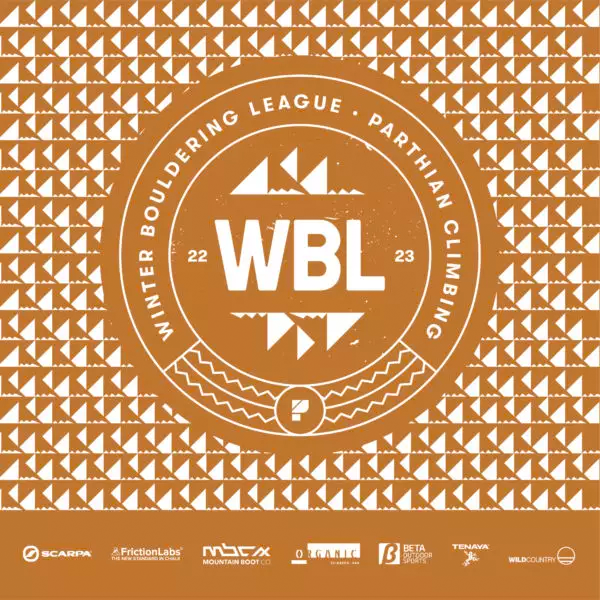 Our Winter Bouldering League is back! With five events to rack up as many points as you can to be in with a chance of winning your share of a huge prize haul from our Sponsors.
There are problems from V0 right through to V8+, meaning there is something for everyone, but the scoring is designed to reward climbers who give the most to the competition, rather than just rewarding the strongest. With extra prizes and rewards for the best progression throughout the league; it really is a competition for all!
Dates:
The dates for each round are:
Rnd 1: 12/10/2022
Rnd 2: 09/11/2022
Rnd 3: 07/12/2022
Rnd 4: 11/01/2023
Rnd 5: 08/02/2022
Good luck everyone!
Results
ADULT
| | | | |
| --- | --- | --- | --- |
| Adult Male | Score | Adult Female | Score |
| Markuss Jurgins | 70 | Emily Ankers | 100 |
| Robert Bleakley | 87 | Erin Curtis | 130 |
| Bradley Brennand | 57 | Katie Griffin | 100 |
| Charlie Tennant | 170 | Amanda Gill | 107 |
| Daniel Owbridge- kestrel | 170 | Rebecca Garner | 150 |
| Jack Clark | 260 | Sophie Low | 98 |
| Daniel Crowther | 140 | Maisie Kane | 134 |
| James Cussons | 147 | Sophie Jarrett | 178 |
| Max Dowsell | 40 | Amy Johnstone | 244 |
| Ant Flaherty | 239 | Laurie Miller | 130 |
| George Duncan | 150 | Grace kilroy | 114 |
| Kyle Flaherty | 257 | Gabby Thompson | 222 |
| Alistair Mcmaster | 210 | Chloe Ross | 244 |
| Tom Mccreedy | 268 | Rach Powell | 177 |
| Theo Hiley | 224 | Kirsty Mcghie-Fraser | 100 |
| Ed Holey | 221 | Jo Welch | 94 |
| Jack Harker | 107 | Nikola Rehulkova | 147 |
| Mathew Gauthron | 20 | 0 | 0 |
| Ben Holton | | 0 | 0 |
| Solomon James | | 0 | 0 |
| Levi Kimberling | 199 | 0 | 0 |
| Ben Lehan | 0 | 0 | 0 |
| Tom Mccreedy | 127 | 0 | 0 |
| Anthony Nielsen | 184 | 0 | 0 |
| Samuel Plummer | 261 | 0 | 0 |
| John Rocks | 90 | 0 | 0 |
| Oliver Prince | 160 | 0 | 0 |
| Simon Noakes | 249 | 0 | 0 |
| Jack Mccready | 115 | 0 | 0 |
| James Oxley | 107 | 0 | 0 |
| Mathew Tindley | 60 | 0 | 0 |
| Patrick Tomison | 265 | 0 | 0 |
| Tom Swannie | 171 | 0 | 0 |
| Jonathan Shrago | 261 | 0 | 0 |
UNDER 16
| | | | |
| --- | --- | --- | --- |
| Under 16's Male | Score | Under 16's  Female | Score |
| George Beasant | 100 | Alice Arundel | 88 |
| Daniel Barrowman | 198 | Eleanor Bowen | 50 |
| Sam Bourne | 120 | Amelie Brogden | 50 |
| Samuel Brooks | 123 | Alana Corderoy | 140 |
| Luke Bulford | 180 | Tessa Connell | 134 |
| Harry Buxton | 157 | Ava Cole | 129 |
| sunny cartlidge | 87 | Becky Crowther | 141 |
| James Corfield | 113 | Hannah Davies | 144 |
| Arlo Collins | 216 | Isla Doyle | 50 |
| William Crabtree | 117 | Olivia Fisher | 40 |
| Adam Czwaczka | 10 | Emaline Gill | 81 |
| Joseph Duncan | 97 | Maisie Gill | 150 |
| Oliver Deavin | 164 | Evie Howard | 81 |
| Alex Goodrum | 155 | Emily Gwillam | 127 |
| Alfie Gill | 140 | Jessica Gauthron | 20 |
| Louis Gouthran | 87 | Francesca Heywood | 70 |
| Barney Hardisty | 60 | Hana mcmillan | 101 |
| Wilfred Lee | 0 | Anna Littlejohns | 115 |
| Tom Jarvis | 0 | Katie o'hare | 83 |
| Freddie Lindsay | 80 | Esme Rae | 52 |
| Sam Polito | 220 | Rosie Coombes | 80 |
| Mack | 33 | Rebecca Pierce | 138 |
| Elliot Serginson | 0 | Rosie Mallender | 80 |
| James Pullan | 110 | Futura Rydberg | 144 |
| Connagh Reid | 187 | Freya Parker | 181 |
| Sam Marks | 187 | Elana Boyes | 90 |
| Nathan Mellor | 84 | Annable Washer | 124 |
| Leo Easton | 140 | Annable Washer | 30 |
| Joel Whitley | 100 | Rosie Williams | 90 |
| William Yuen | 30 | Evie Williams | 37 |
| William Todd | 160 | Isobel Whincup | 114 |
| Tom Scott | 140 | Florence Smith | 60 |
| Finn Sloan | 140 | Arabella Rickard | 134 |
| Henry Batchett | 71 | Awen Peel | 70 |
| 0 | 0 | Olivia Batchett | 68 |
VETERANS
| | | | |
| --- | --- | --- | --- |
| Vets Male | Score | Vets Female | Score |
| Royd Brayshay | 187 | Heather Gorton | 60 |
| Peter Bulford | 120 | Jenny Marks | 170 |
| Ian Campbell | 154 | Helen Williams | 134 |
| Niel Carruthers | 210 | 0 | 0 |
| Richard Corfield | 70 | 0 | 0 |
| Chris Robinson | 154 | 0 | 0 |
| Dave Prince | 163 | 0 | 0 |
| Bruno Marks | 237 | 0 | 0 |
| Steve Mead | 200 | 0 | 0 |
| Doug Whincup | 113 | 0 | 0 |
SUPER-VETS
| | | | |
| --- | --- | --- | --- |
| Super vets Male | Score | Super Vets Female | Score |
| Adrian Dixon | 90 | 0 | 60 |
| Geoff Nunn | 177 | 0 | 0 |