A Day in the Life of a Route Setter
A day in the life of a route setter is very familiar yet so different, with each day bringing new challenges and ideas. The day starts off with some good ol' breakfast and a nice warm brew. From there the hard work begins almost instantly, a day of non-stop labour both physically and mentally.
Setting at Harrogate begins with a worksheet of what is needed, in terms of grade and accessibility, followed by stripping the current routes. I enjoy stripping the routes as this not only gives me time to think of route ideas, but it also allows you to see the thought process behind the previous setter.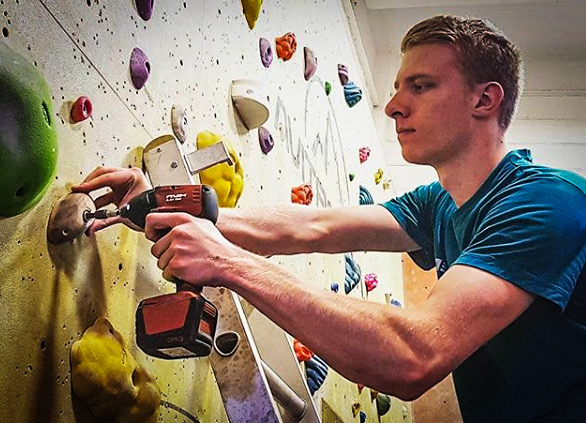 I love the feeling of having a blank canvas, knowing you can let your creativity go wild on the wall with a bunch of coloured holds, angled and positioned in whichever way you like. This is what makes route setting so much fun. Most lines I set have 3 different routes on and even though they need to be specifically French sport graded, in my head I see it as an easy, medium, and hard option for climbers to try. This makes setting the routes easier to follow in my head and means I can choose the exact holds suitable for that grade.
Once I have stripped the wall, the next part of my day involves selecting the colours and types of holds to use for each route. This takes some thought. I must ensure that I set colours that contrast each other and not have two of the same colours next to each other. This would be both confusing and not look as aesthetically pleasing to customers/climbers. It's great having a vast of different manufacturers when it comes to hold choice and Harrogate does not disappoint. From massive holds such as the Bertha (Holdz) to small crimps such as the Cookie set (Euroholds).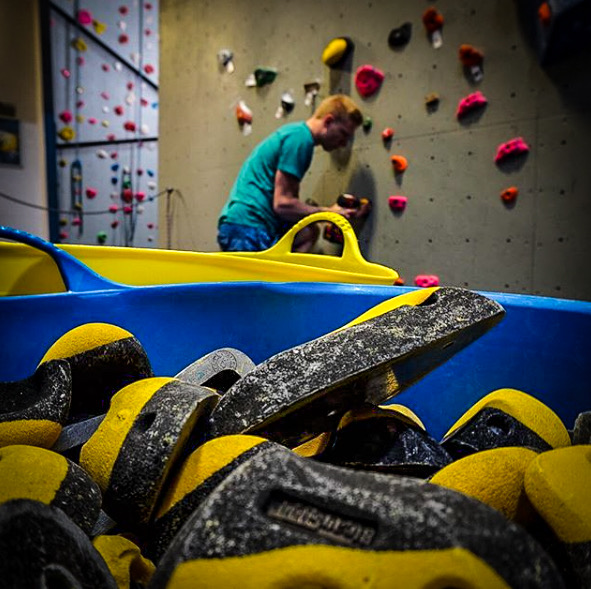 I like to select all my holds, put them in the bag, and bolt them, ready to go straight onto the wall to minimise wasted time and be as efficient/slick as possible. This is essential as you need the time to think about the route and if you spend too long wasting time then you will find yourself there until the late evening. There is a lot of work to be done.
It's been a couple of hours now, the holds are all bagged up ready to go, the harness is fitted with all the essential gear, and the impact driver has a fully charged battery attached. A quick snack and it's GO TIME! I set one route up (medium), another on the way back down (easy) and then I go up again with the final route (hard) and pin all the routes with screws on the second time down. Pinning is essential to prevent the spinning of holds. When I am on the wall I am in my own world, switched off from the outside and focused on creating my routes.
Some routes go up with ease and flow brilliantly, but some take a lot of thinking and don't always flow well. This is normal for a setter and this is what I put a lot of my time during the day into, making sure my routes flow. My biggest struggle when setting is my height. I am 6ft 4", and if you have climbed some of my routes you will be able to tell that is the case. Each day of setting I get better at reducing the distance between holds and better at putting the footholds in appropriate places. This all comes with practise.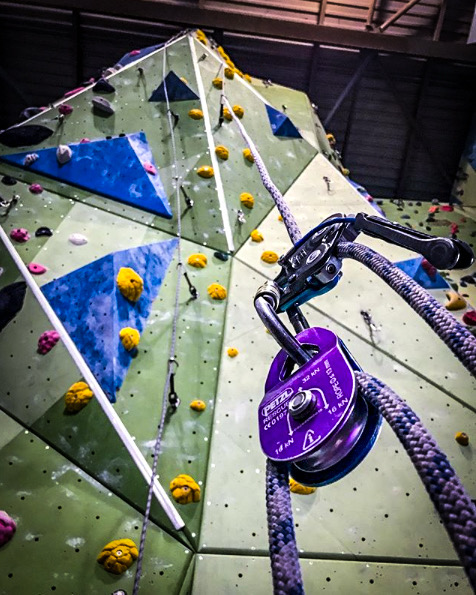 Setting days don't always go to plan and I will always have an obstacle to overcome. One being a stuck bolt. When this occurs, it is a nightmare and you lose precious time trying to sort it out. The most common way I fix this is by sawing off the stuck bolt to push through the wall. It sounds quick but in worst case scenario it can eat up to 1 hour of my time. Time is precious in the route setting industry and you want to finish on time to allow testing and feedback.
Once I complete and test my routes, I write down the colour and the grade so the route cards can be created for the bottom of the newly set lines.
Feedback is key to route setting. Without feedback you can't improve. I love hearing the customers voice their opinions of my brand-new climbs. 95% of the time I am praised on the thoughtfulness and technical approach of my routes but there is the 5% of the time where I get the constructive criticism. Most of my improvements from customers are do with the reach.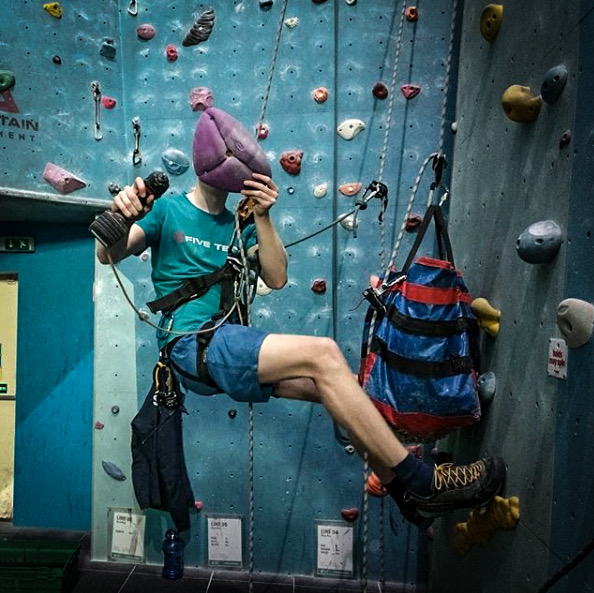 There is nothing more rewarding than at the end of the day, once I have tidied away and opened up the area where I have been setting, seeing the customers try the new routes. It's always interesting to see how they climb your route and it makes you realise how different people climb. They don't always climb your route the way you intended but you see new ways in which it could be climbed, something that may never have been thought of. The day ends with climbers approaching me explaining how much they enjoyed the new routes and asking the thought process behind each climb. Each route to me has a story and a different way of thinking. When a climber comes up to you and praises your routes, there is no better feeling. This is why I am a route setter.
Blog by Josh Leigh: HCC Development Manager & Setter