When we start our journey as climbers, we all feel the overwhelming possibilities of developing ourselves mentally and physically, and we see a long and exciting journey ahead where we can grow and what we can achieve with training and practice. We feel the limits to pursue a higher grade or a more challenging route is more internal in the beginning than physical, but with training and practice we slowly start to develop and achieve our goals in time.
Now try to think outside the box of your limitation and put yourself in a wheelchair or try to imagine that you do not have (full function) of a limb. This you may feel impossible.
Often in our child session we set a challenge for the youngsters -to develop footwork- a one hand climbing or blind climbing. These tasks may seem huge but for some of our costumers this is their reality. As an instructor for these sessions, every time I work with particular people of our community, I come to the realization of how lucky I am and how much will power these costumers have to overcome their disabilities. For a lot of physically disabled clients this is a form of rehabilitation after an accident and we team up with a movement therapist to get more mobility (or control) back to the arms and legs. For mentally disabled people our gym is an opportunity to get out from the daily routine and practice a different form of exercise.
Due to the nature of these one to one sessions, I particularly enjoy the pace of the course as a chance to engage more in depth personally and discuss the problems they have overcome with the particular routes. To see how clients grow mentally and physically to overcome their disabilities s a very rewarding process for both of us.
The head-game of climbing, to solve a puzzle on the wall and apply different approaches is always an endless and fascinating progress for all of us. To come up with different solutions for solving the same puzzle is a great practice not just for the participant but for the instructor too.
In order to aid physically disabled climbers we use different methods. We usually start with a discussion of what movements they have and what are their limits. Most of the time to support their torso we use a full body harness instead a regular one, which can be a one piece or a two piece kit.
To help their elevation on the wall we set up a two pulley system with static ropes. This allows the instructor to aid the climber to reach an extra inch or two or even lift them through a harder section of the route . Instead of a belay device we use a locking tool called the rig. This tool allows us to fully lock the rope in place, in case the climber needs a longer rest or when we are taking in while they ascend. In practice we try to hoist the costumer less and less throughout their progress.
Some clients whom have very little or no mobility to climb, we offer a hoisting experience. This take place in the tower of our church where they elevate free hanging up to 8 m hight. It may seem a bit odd and you may not see the point as a regular climber but if you have never experienced being off the ground attached to a rope this is a greatly appreciated activity.
If you would like to see some of Britain's finest para-climbing athletes in action I would definitely suggest to look up Jesse Dufton who was featured in the recent movie Climbing Blind. For lots of us climbers he is such an inspiration. He climbs trad and places his own gear without seeing, for more on his achievement take a look at the link below.
https://www.ukclimbing.com/news/2019/06/blind_climber_jesse_dufton_leads_the_old_man_of_hoy-71971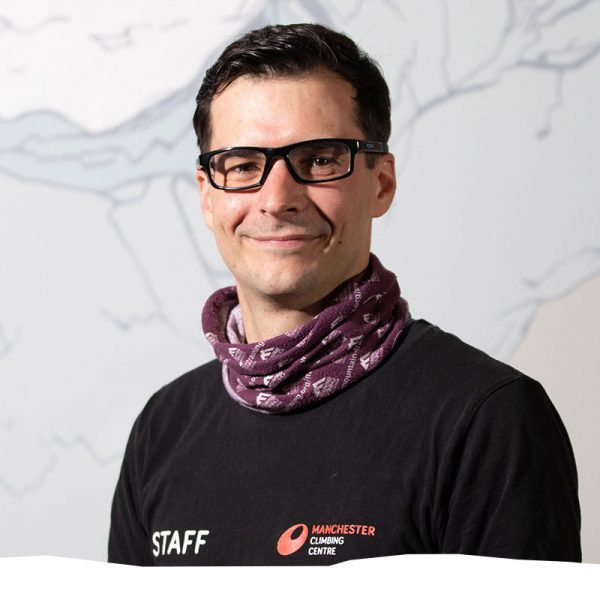 Blog written by Miki Csepely-Knorr MA MCC Duty Manager, Coach & Route Setter