Home Alone Climbing – A messenger project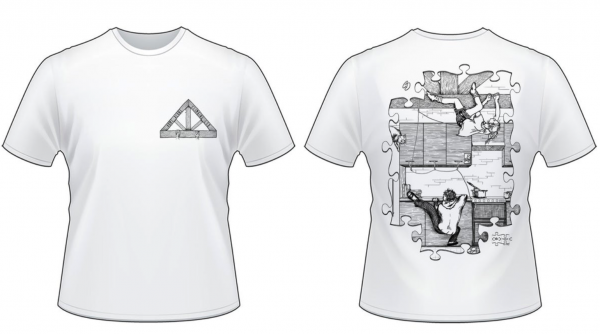 The beginning
After Mike and I both realised we may be in for a few months of no job and more importantly no climbing we knew something had to keep us busy. Climbers had quickly adapted to using their fingerboards, pull up bars, brick walls and anything else that could be climbed or hung from and made their home a solitary climbing gym for their household.
All great climbing walls have a bunch of things that make them great, which unfortunately these home gyms couldn't quite replicate. So we had a think about how we might be able to help out:
Superbly set walls offering varying degrees of difficulty and fun, the 'home gyms' had the best they could make with what they had. We couldn't help there.
A brilliant cafe offering tea, cakes and climber's no.1 power food, pizza. Well, kitchens work, right? All cooks and bakers, go!
The people and a community. Climbers only Facebook, anyone?
The final thing we knew we could help with: T-SHIRTS! Every great climbing centre has a brilliant T-shirt. Mike had designed the RCC 5th anniversary tee and has lots of experience in designing and printing and I had just done the design for the Southampton Climbing Festival. With both our skills surely we would be able to come up with a shirt that would represent all those new solitary climbing gyms.
Only one slight complication: We had to do so in lockdown, together, from our separate homes.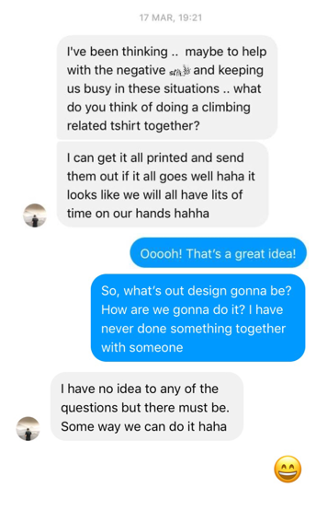 The idea
Mike and I started brainstorming and almost instantly knew what we had to include. The basic idea came so easily that it almost felt like it had just been sitting there waiting for us, the same with the name. The only tangible process that I could describe to you was: On the evening of 17th March we got excited about something positive in an otherwise at this point quite chaotic world and wrote down what spontaneously came to our mind.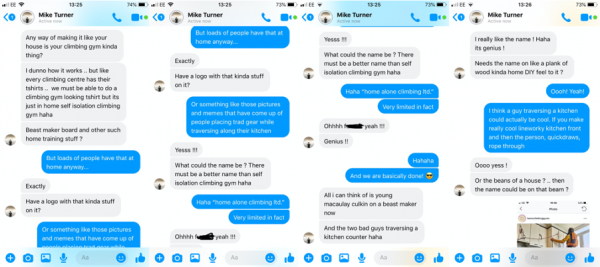 The process
Neither Mike nor me had ever worked collaboratively on a design before. So, we did not really have a plan or strategy on how to tackle this. Likewise, having to do this remotely added difficulty to our venture. Therefore, all progress pictures that are following are a fraction of the pictures that we sent each other, accompanied by lines and lines of explanations and questions, to update each other and ask for feedback.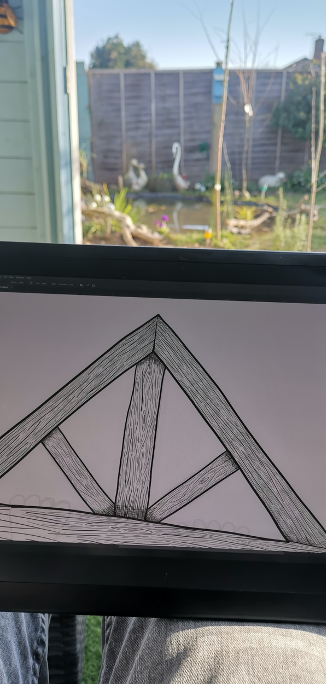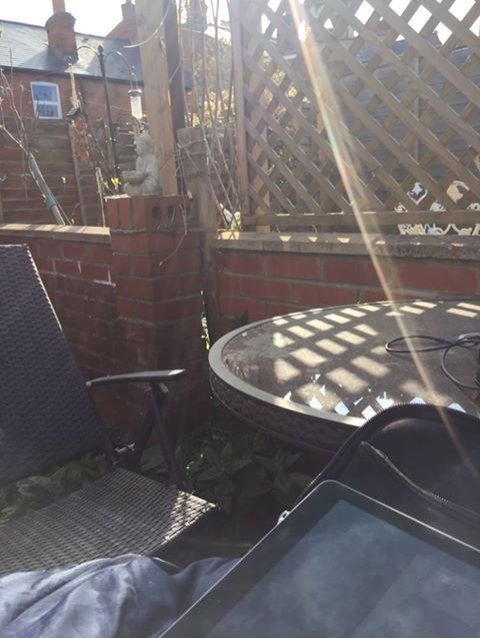 From the start our process of dividing out the work naturally worked itself out as we quickly realised that we both tend to prefer drawing different things. We started with the logo.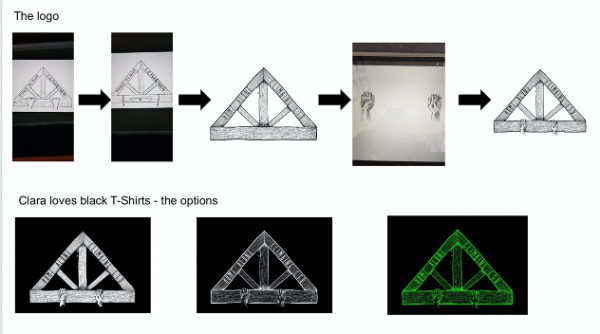 Thanks to technology it is easy enough to break designs up or rather assemble them from different drawings or files. As Mike liked drawing wood pattern, he focused on the wood planks. I enjoy drawing hands. So very quickly we had our own tasks. Once our separate drawings were finished, Mike added them together.
In a way, we are lucky that our personal drawing styles are very compatible. A fact that I personally didn't really think about when we started working together. The process would have been a very different one, if we had added our two drawings together and realised that it would have been very obvious that they were drawn by two different people. Maybe before reading on, have a look at the finished design again and see if you can guess which parts were done by Mike and which by me!
It is not much of a secret that if I could, I would only own black t-shirts. Therefore, I could not stop myself and at least had to try and see if a black t-shirt was possible for our design. Mike seriously entertained my idea for a while but then drifted off…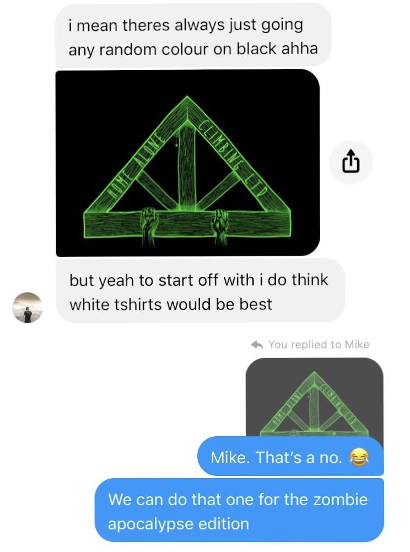 Needless to say, that we decided against black shirts (sadly), mainly because it would have meant a considerable increase in cost to produce something decent looking.
Next up was the back design. Very early into lockdown, pictures and videos started appearing on social media of people traversing their house, especially their kitchens as they often offered good cracks and edges to place quickdraws and trad gear. With our background at RCC where we have both: bouldering and rope climbing, we felt that both needed to be included in our design.
Again, we approached it quite intuitively. I was keen to take on the challenge of drawing home climbers, while Mike straight away wanted to give the kitchen a go and proposed a jigsaw puzzle outline.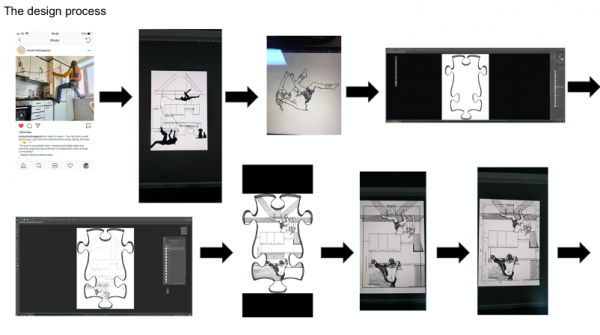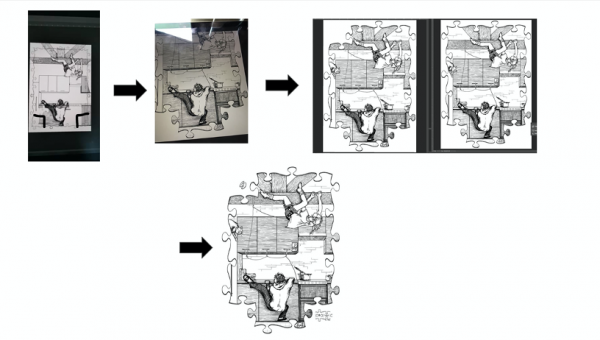 The visible section of the kitchen changed multiple times, the climbers changed their positions. The boulderer who started on a kitchen island in the foreground ended up topping out on the kitchen counter, same level with the rope climber. The thickness of her rope changed 3 times. I drew little objects, again separately, which were added to the kitchen to make it look more homely.
A lot of attention to detail and tiny changes, and with them hundreds of messages, went into this design which came together over the time of 2 to 3 weeks. But even with so much care and meticulousness, some things follow no thought or reason: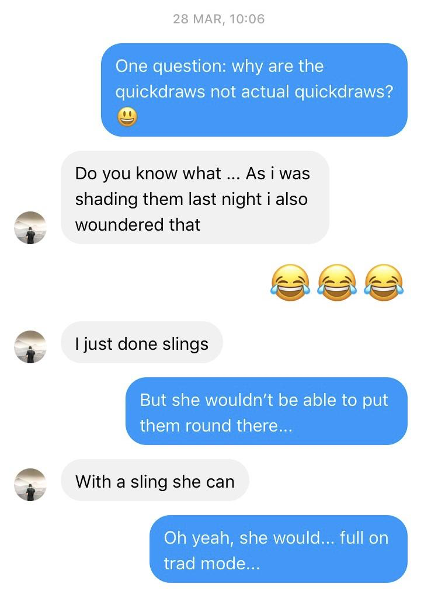 The jigsaw argument
Being two different people with different views, perspectives, styles and ways of working would of course mean that we would not always agree on everything.
As described before, this project was never something that was massively planned, organised or based in experience. We both found ourselves in an uncertain situation and realised that this could be something that could give us some direction. Everything else would have to be figured out as it comes.
Mike had suggested the big puzzle pieces as outlined early on and I had agreed but had gotten less and less happy with them.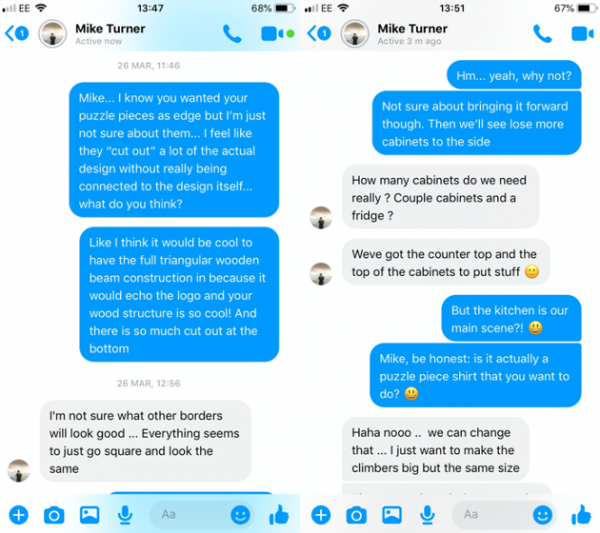 Every team is only as good as it handles conflicts. So, when we didn't agree on an aspect of the design, it was probably the single moment, when actually not being able to talk in person was the hardest. We all know how easy it is to misunderstand each other over text.
But we are not only fickle artists, we are also friends. The common goal was not only to create a great design, it was also to respect each other. So, the only way to solve the conflict was and is – the only way to solve anything really: communication.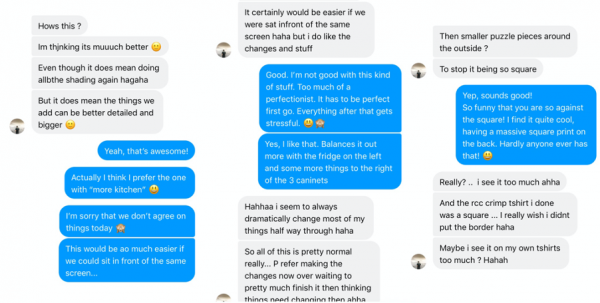 How am I feeling? How are you feeling? What's my view on this? What's your view on this? Can we find a compromise?
The answer is: Yes, we could. Honouring Mike's aversion to squares, while also trying to get a bigger cut-out of the kitchen offering more space for climbers and scene, we found a middle ground of smaller puzzle pieces. And I tell you a secret: I actually really like them now.
Working in a team does not only mean finding compromises for your joined project. You might also learn something about yourself. I have certainly learned that I can be pretty stubborn. Likewise, as easy going as Mike is, he will stick up for an idea that he really believes in and it turns out that these actually make for quite a good combination
Technicalities
When it comes to printing t-shirts, I have no experience whatsoever. I can draw. I know my way around my iPad enough to work the technical side to my drawings and that is where it ends. Luckily, Mike has a lot of experience. So very quickly he became the guy with the spreadsheet and questions. What kind of printing? What kind of t-shirts? Are we offering XS? What price do we want to sell them for to get what kind of profit margin? What kind of online shop do we want? What kind of stickers? What size? How many? How do we want to send the orders out? In envelopes? Bags? Recyclable ones? Our logo printed on them?
Most of these questions, I didn't even know that they had to be asked, let alone how to answer them. Luckily, Mike would usually provide multiple choice options and explanations. So, for a possible next project I might even get a spreadsheet myself.
A decision that was very important to us were the t-shirts. During lockdown we saw how the climate has been bouncing back a little with a lot of people not traveling and in general leaving nature alone. We agreed that we wanted to find the least environmentally damaging way of offering these t-shirts and after many emails and a day of research Mike found our climate neutral, Peta approved vegan, fair wear shirts.
In a lot of respects, this project is also a great learning opportunity for me personally, even if Mike sometimes gets a bit too technical: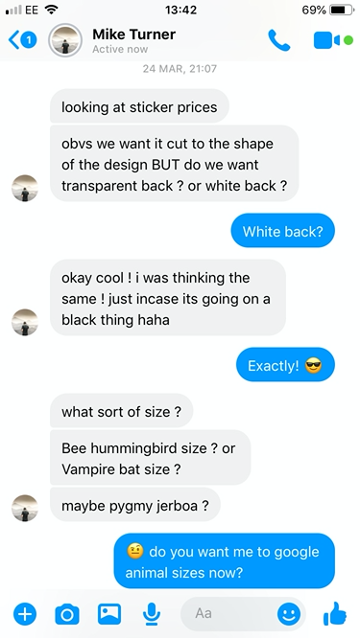 And suddenly it was out…
We never had any specific expectations how the promotion and selling of the shirts would go. It was always more about the journey: Having something to work on, a project to focus our energy into while otherwise nothing else seemed to offer much stability.
Early on we wondered whether people would even be interested in a t-shirt, would they even be able to afford it, if they were in a similar situation to where we are and were? That's how the stickers came into being.
But the thought that after all of this we will come back to RCC and bump into maybe even just a few people wearing our t-shirt was enough for us. It would be one way to remember that even though apart, we all went through this together.
Now being on the other side of the 4 week pre-order period, already so many more memories have been added to the design and the shirts: re-connecting with friends,  connecting with people who we only vaguely knew before or didn't know at all, new projects and opportunities and, even though you just get a generic "Thank you!" online shop message after your order, you can rest assured that on our end, every single order, whether it was a t-shirt or a sticker, whether it was order 1, 17 or 43, was celebrated with a personal mention of the name because it does mean a lot.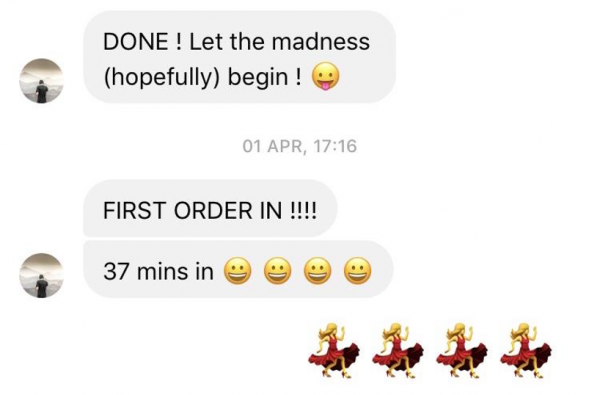 Blog and images curtesy of Mike & Clara, founders and creative minds behind HOME ALONE CLIMBING
Pre-orders have been extended until midnight Monday 4th May, so to order your HOME ALONE CLIMBING t-shirt or accessories, please click here!