Setters Assemble!
What an opportunity was had at Parthian Reading on the 26th May, the whole team of route setters descended upon Parthian Reading to take part in an Impact route setting course.
The art of putting climbing holds onto a blank wall might seem like magic, this magic had a chance to be refined by Ben Norman and Cailean Harker the co-owners of Impact route setting.
As a group of climbing walls with many thousands of users per week, quality route setting is at the heart of our ethos. This was a great opportunity to get the whole setting team together, to share ideas and to discuss the wide array of latest and greatest climbing moves, while having some expert guidance from some industry experts.
The day consisted of a morning session of movement creation using certain holds and different body positions. The ideal stable and unstable positions and creating the body positions that utilised these balanced and unbalanced positions. Using these principles, the route setting team were tasked with setting a boulder problem up to the grade of V4, this was an individual task and all 10 Parthian route setters selected holds and got to work.
After a lunch break, the first session was reviewed and ideas of efficient working styles were discussed, and a plan for the next task was formed.
The safety of the customer was also discussed with ideas debated on how we could always look to improve these aspect of route setting at Parthian.
The next task for the team was a set a boulder problem at the higher end of the scale, upward of V4. Again, this was a very individual task. With holds selected the team got to work. After the task was completed, the team split into testing teams of 5 members plus either Ben or Cailean to test the boulder problems for quality and how appropriate they were of the target grade. This can be a tough process, especially when it comes to testing the harder boulder problems. With Ben and Cailean's help, the team tested and tweaked the problems to the outcome that is now visible on the boulder comp wall at Parthian Reading.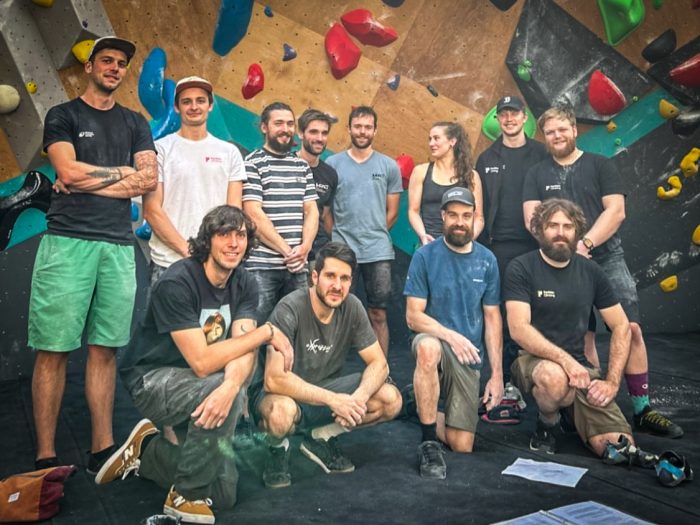 I would like the take this opportunity to thank Ben and Cailean for their expertise and for sharing their knowledge, the whole team loved the day and the blocs looked excellent.
We hope you enjoy climbing them, the boulder problem will be up for a few weeks for you lucky customers to enjoy.
Blog written by Ed, Parthian Setter