My alarm is set for 7 but I am wide awake at 5, full of nerves and excitement: today could be the day. We are driving with a friend to a crag in Yorkshire, where I am hoping to do a route that felt possible last time I tried it just before the lockdown. It has a steep boulder problem at the start followed by 12 metres of easier climbing. If I can get through the start I shouldn't drop any of the other moves, but you just never know.
How did someone like me – 3 kids, no spring chicken and certainly not a daredevil – get into climbing and made good progress? It all started less than 2 years ago when I signed up to the Learn the Ropes course at MCC. I had a friend who was very keen to climb outside and wanted a partner who could belay. We have been to a few bouldering walls together, but it just never appealed to me, watching everyone around you crush and then flailing and failing on some massive jugs was utterly demoralising.
After the first session on the ropes it all suddenly clicked into place, I could now climb without the fear of falling and hurting myself because there was always a rope to catch me, all the individual moves were easier and you got that enormous satisfaction of making it to the top that is well high.
After the course finished, the next step was to organise a regular climbing schedule, which is crucial for progress yet incredibly hard to sort out. Luckily, I had already found a very keen girl who was on the course with me who was up for regular sessions, I found several other partners on the social board (the one in the side isle) and, on occasion, point blank asked those lone people on the auto belays for a catch. Some people you bond with straightaway, some you climb with a few times and then they drop off the radar, but eventually you build up a group of people you like climbing with who are keen, reliable and positive. I would say this is the first and most important step in setting yourself up to become a good climber, more important than obsessing over finger strength or being able to do pull ups. If you find approaching people difficult, I would recommend joining the social clubs that are available at the centre, chances are you'll end up with more friends than you've bargained for.
As soon as I'd started climbing on top rope I knew that I wanted to lead and go on the big walls but wasn't sure how to make the transition. It was then that I found that it's ok to ask the instructors for tips, I got so much solid advice during that period by just talking to experienced climbers. Everyone in the community is really helpful and willing to share their knowledge, so just ask. Some of my favourite pieces of advice were: practice falls as much as possible when learning to lead, clip from the good holds rather than the ones nearest to the quickdraw, resist the temptation to clip high, learn and practice good footwork. 
My climbing was getting better and I was doing a high volume of routes, but my overall feeling was that I needed to get stronger to climb the same grades on the steep walls as I could on the vertical. This is when the training came in. Nothing fancy, mostly laps on auto belays, on the circuit wall in the Attic, on the traverse at the back of the centre. I can't recommend this kind of training enough, it can be done on the days when you don't have a partner or don't have a lot of time. Fingerboarding can be all the rage, but as a beginner nothing is better than doing a lot of moves on the wall using different kind of holds and working on foot placements.
Strength, technique and a good head game are all equally important for a climber, but there is one extra component: feeling psyched. Wanting to come to the wall and try hard routes, putting the effort in, resisting the urge to just tread water. Often you can get that infectious motivation from people around you, but there is another way that I can also recommend. All MCC routes are uploaded on the Vertical Life app, which allows you to log your climbs, rate the routes, leave feedback, follow other climbers and track your progress. The app is free but you might want to ask a member of staff to show you how to find the routes on it and log your ascents. The big screen in the cafe shows all the recent activity on Vertical Life, including rankings which can be a great motivational tool. Use it, it will give you an incentive to try more routes and push harder to tick off your project.
So this is how I got to where I am, dragging my friend out of bed early so we can climb outside while the indoor walls are closed. The 6c+ route I was hoping to get went on the first try and we spent the rest of the day ticking off easier routes, a superb day with a friend, climbing together doesn't get much better than that.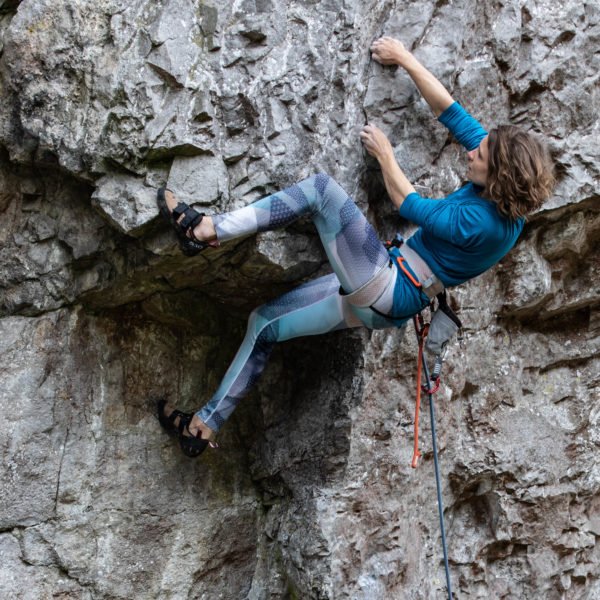 Blog and images from MCC friend Marsha Balaeva